Flea Market: A Site Appropriately Named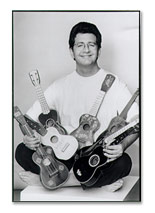 That mutual acquaintance is coming in handy. Seems the uke community is always there to stab a drummer in the back with their diminutive instruments.
It was brought to my attention that this little website, FleaMarketMusic.com, actually dared to speak my name, RivDrumDave, within its koa-stained walls. Well for once, something ukulele related is aptly named. Fleas are the most annoying of creatures. They bite you and by the time you know it, it is too late to do anthing about it, like spray for the flea or something.
Ukuleles are kind of like that too: you want to spray for them, but by the time they bite you it is too late. Perhaps I can get a special collar or something.
Anyhoo, this guy to the left is the purported owner of the site. I wish I could tell yo

u that in this picture he is collecting the remaining ukuleles in the world so that he can burn them all, but alas, it appears he is more of the collector type. He has so many ukuleles he can wield them on any unsuspecting percussionist at any given time.
Yeah, that scares
me
too.
Well, as I perused the site, I noticed that there are some more ukuleles that are kind of like the tupperware ones below. Check out the picture of the purple ukulele to the right. Boy is that a sorry sight for eyes that don't want to ever look upon this evil instrument. There was even one with flames on it, symbolizing the idea that all ukuleles should probably be burned. These plastic creations look like they'd wither away if they were too close to a camp fire.
Apparently, they're called a "Fluke" which is yet another apt name. It probably describes how it was invented. If ukulele makers have anything right, it is the names and nicknames they give their instruments. Calling these things the "jumping flea" is a bit of self-hatred, if you ask me. I feel like I would be comfortable marketing my own line of ukuleles, since apparently ukulele players appreciate these demeaning names. Howabout the "I Sucked as a Guitarist So Now I Play the Uke" tenor, brought to you today by RivDrumDave for a special introductory price of $500 (oh they'll sell, baby). Or maybe something more modest, like the "SuckEgg" soprano or the "Sounds Like Anything But A Concert" Concert. Yeah, I know they come in different sizes. But a rose is still thorny whether the stem is three inches or ten inches. Just fewer thorns on the shorter one, and so on, except maybe in ukes the shorter ones are thornier because of the annoyance level. I can write a run-on with the best of them. Which reminds me of what I do when I hear those 4-strings a-strummed: run.
And then throw a few whacks on my new cowbell. It sounds hot.